Tuesday, February 6, 2007 - Bush, Quagmires And Flawed Iraq Policy
t doesn't sound like much of a strategy. Frankly it scares the hell out of me that Mr. President is so twisted stiff about Iraq that he'll risk breaking the Army and leaving our country unable to respond to any threats to our national security and/or vital interests elsewhere in the world.
For a little over 20 minutes Wednesday night, Bush is to explain why a gradual buildup of about 20,000 additional U.S. troops, along with other steps expected to include pumping $1 billion into Iraq's economy, is the answer for a more than 3 1/2-year-old war that has only gotten deadlier with no end in sight. The administration plans to expand an existing program to decentralize reconstruction efforts. Ten units known as Provincial Reconstruction Teams will be expanded to 19, with the additional units based in Baghdad and in Anbar province, seats of most of the worst violence. The teams, under State Department control, will administer some of the economic aid, including an effort to provide small loans to start or expand businesses.
Senator Ted Kennedy says that Congress should vote on this troop surge.
---
"The president's speech must be the beginning - not the end - of a new national discussion of our policy in Iraq," Kennedy said. "Congress must have a genuine debate over the wisdom of the president's plan. Let us hear the arguments for it and against it. Then let us vote on it in the light of day." Asked whether the supplemental spending request would provide a vehicle for his legislative proposal, Kennedy replied, "The horse will be out of the barn by the time we get there." Although the request is expected to reach Capitol Hill next month, Congress typically spends months working on such spending proposals. Kennedy said immediate action is needed to forestall the troop surge.
---
With our nation perhaps more vulnerable and unprepared for foreign (non-nuclear) threats since perhaps World War I, maybe such a vote would be a good idea. The President has the Constitutional responsibility to conduct foreign policy, but when he endangers the entire nation in pursuit of an escalation of a failed policy, it's in our national interest to try to avoid that.If the President persists in spilling our national blood, treasure -- and yes, international political and moral capital -- in the middle of Iraq's civil war (or "sectarian violence," take your pick), then perhaps impeachment should be seriously considered by the don't-rock-the-boat-too-much Democrats.(For the record, I believe that if Bill Clinton could be impeached for lying about fellatio, George W. Bush can and should be impeached for lying about Iraq and leading America into a quagmire. I don't think it will happen, but if Bush further risks our national security by over-extending our military even more, then we all should be asking, "Why not?!")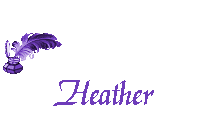 :: Send to a Friend!

About Heather ™
I have suspeneded my blog site
I may come back to it at a later date
I am sorry that my blogs and site were not appreciated and lacked participation
It just seems like my JH Colleagues have little interest in this format
I have to devote my time and energy where it is appreciated
It seems thats not the case here.
I wish JH and My Colleagues here well...Love and blessings to all
Click Videoplayer Below
This Clip Is From Youtube...Rarely shown on mainstream news
A delightful version of
the real warm loving Hillary,


not the "monster" media portrays
I am not Neocon or Republican, not "liberal but progressive"Rather, I like to say "progressive Independent" and independent of ideology, which really means: I think for myself.



My goal is to vanquish Neocons / Bush from this Land near and far...
To make women wake up, get angry, protest and act!
Aw come on . . . it shouldn't be that hard!......
About Me:
Orientation: ~ Straight
Hometown: ~ New York
Body Type: ~ 6'0" / Slim
Ethnicity: ~ Irish
Zodiac Sign: ~ Aquarian
Smoke/Drink: ~ Yes/No
Children: ~ One Daughgter I Cherish
Occupation: ~

Mom, Healer,Teacher & Work Force Goddess
My Favorite Things:
Shoes: ~ Charles Jordan High Heels
Activities: ~


Mountain Biking, Forest Nature Trails, Gourmet Cooking
Sports: ~ Tennis
People ~ Compassionate, Kind, Respectful
Recent Posts
Menu
Calendar
« March 2017 »
Mon
Tue
Wed
Thu
Fri
Sat
Sun
1
2
3
4
5
6
7
8
9
10
11
12
13
14
15
16
17
18
19
20
21
22
23
24
25
26
27
28
29
30
31
Friends
Links