Tuesday, February 6, 2007 - Chris Heinz To Wed In D.C. Feb. 10
Feb 02, 2007 12:00pm
Description Pittsburgh Post-Gazette article.An excerpt..." Chris Heinz, son of Teresa Heinz and the late Sen. John Heinz, is about to break a few hearts.Maybe more than a few.On Feb. 10, the heir to a Pittsburgh legacy and fortune will marry Alexandra (Sasha) DeRuyter Lewis at St. John's Episcopal Church Lafayette Square in Washington, D.C. Vows will be exchanged before the Rev. Dr. Luis Leon.Mr. Heinz, 34, a veteran of the gossip columns, having dated actress Gwyneth Paltrow in 2000, is said to be pondering a career in politics, although he works now as a managing partner of Rosemont Capital in New York City. He graduated from St. Paul's School and Yale University and received an MBA from the Harvard Business School.His mother is now married to Sen. John Kerry, D-Mass. Mr. Heinz worked on his campaign during the 2004 presidential election.His fiancee, 28, graduated from St. Paul's School and Harvard University and received a master's degree in positive psychology from the University of Pennsylvania. She is the daughter of Walker and Ellen Lewis of Greenwich, Conn. Her father is chairman of Devon Value Advisers and Argo American Capital in New York City."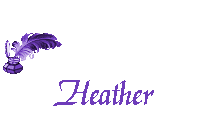 :: Send to a Friend!

About Heather ™
I have suspeneded my blog site
I may come back to it at a later date
I am sorry that my blogs and site were not appreciated and lacked participation
It just seems like my JH Colleagues have little interest in this format
I have to devote my time and energy where it is appreciated
It seems thats not the case here.
I wish JH and My Colleagues here well...Love and blessings to all
Click Videoplayer Below
This Clip Is From Youtube...Rarely shown on mainstream news
A delightful version of
the real warm loving Hillary,


not the "monster" media portrays
I am not Neocon or Republican, not "liberal but progressive"Rather, I like to say "progressive Independent" and independent of ideology, which really means: I think for myself.



My goal is to vanquish Neocons / Bush from this Land near and far...
To make women wake up, get angry, protest and act!
Aw come on . . . it shouldn't be that hard!......
About Me:
Orientation: ~ Straight
Hometown: ~ New York
Body Type: ~ 6'0" / Slim
Ethnicity: ~ Irish
Zodiac Sign: ~ Aquarian
Smoke/Drink: ~ Yes/No
Children: ~ One Daughgter I Cherish
Occupation: ~

Mom, Healer,Teacher & Work Force Goddess
My Favorite Things:
Shoes: ~ Charles Jordan High Heels
Activities: ~


Mountain Biking, Forest Nature Trails, Gourmet Cooking
Sports: ~ Tennis
People ~ Compassionate, Kind, Respectful
Recent Posts
Menu
Calendar
« March 2017 »
Mon
Tue
Wed
Thu
Fri
Sat
Sun
1
2
3
4
5
6
7
8
9
10
11
12
13
14
15
16
17
18
19
20
21
22
23
24
25
26
27
28
29
30
31
Friends
Links