Saturday, February 23, 2008 - Sunday Morning Shows Update
Sunday Show Preview
Meet the Press: Ralph Nader and a roundtable with New York Times' David Brooks, historian Doris Kearns Goodwin, NPR's Michele Norris, and NBC's Chuck Todd.
Face the Nation: McCain senior advisor Charles Black, Clinton surrogate Gov. Jennifer Granholm (D-MI), Obama surrogate Gov. Janet Napolitano (D-Ariz.) and Politico Executive Editor Jim Vandehei.
This Week: Sen. Joe Biden and a roundtable with Peggy Noonan, Washington Post's E.J. Dionne, Cokie Roberts, and George Will.
Fox News Sunday: Gov. Tim Pawlenty (R-MN), Gov. Mark Sanford (R-SC), Gov. Tim Kaine (D-VA), Gov. Jon Corzine (D-NJ), Rick Davis, McCain Campaign Manager and a panel with Brit Hume, Mara Liasson, Bill Kristol and Juan Williams.
Chris Matthews Show: Dan Rather of HD Net; Gloria Borger of U.S. News; Howard Fineman of Newsweek; and Norah O'Donnell of NBC News.
Bloomberg's Political Capital with Al Hunt: Ohio Gov. Ted Strickland.


Tim Russert: Washington Post's Eugene Robinson, The New Republic's Michael Crowley, and MSNBC's Norah O'Donnell.
This is America: Carlos Gutierrez, Secretary of the U.S. Department of Commerce.
CN8's Roll Call TV with Robert Traynham: Roll Call Reporters Erin Billings, David Drucker and Emily Heil.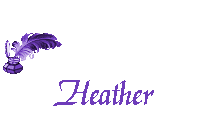 :: Send to a Friend!

About Heather ™
I have suspeneded my blog site
I may come back to it at a later date
I am sorry that my blogs and site were not appreciated and lacked participation
It just seems like my JH Colleagues have little interest in this format
I have to devote my time and energy where it is appreciated
It seems thats not the case here.
I wish JH and My Colleagues here well...Love and blessings to all
Click Videoplayer Below
This Clip Is From Youtube...Rarely shown on mainstream news
A delightful version of
the real warm loving Hillary,


not the "monster" media portrays
I am not Neocon or Republican, not "liberal but progressive"Rather, I like to say "progressive Independent" and independent of ideology, which really means: I think for myself.



My goal is to vanquish Neocons / Bush from this Land near and far...
To make women wake up, get angry, protest and act!
Aw come on . . . it shouldn't be that hard!......
About Me:
Orientation: ~ Straight
Hometown: ~ New York
Body Type: ~ 6'0" / Slim
Ethnicity: ~ Irish
Zodiac Sign: ~ Aquarian
Smoke/Drink: ~ Yes/No
Children: ~ One Daughgter I Cherish
Occupation: ~

Mom, Healer,Teacher & Work Force Goddess
My Favorite Things:
Shoes: ~ Charles Jordan High Heels
Activities: ~


Mountain Biking, Forest Nature Trails, Gourmet Cooking
Sports: ~ Tennis
People ~ Compassionate, Kind, Respectful
Recent Posts
Menu
Calendar
« March 2017 »
Mon
Tue
Wed
Thu
Fri
Sat
Sun
1
2
3
4
5
6
7
8
9
10
11
12
13
14
15
16
17
18
19
20
21
22
23
24
25
26
27
28
29
30
31
Friends
Links