Sunday, March 9, 2008 - Newly Added Features To My Blog Site
I just would like to inform my colleagues at Journal Home and all visitors that I have improved my website with new software. First from Sunlight Labs, I have added Popup Politicians™. You may notice after a politician's name you will see a sun logo if you bring your cursor over it a small popup with the congressperson's or Senator's bio and you will have links that will provide a wealth of information on that particular politician mentioned. I just thought it was a useful tool to help my visitors be well informed on political candidates and better able to have valuable information on a particular candidate they plan to vote for.
Here is an example Sen. Hillary Clinton and Sen. Barack Obama Where you see the Sun Logo Rep. Nancy Pelosi just put your cursor over it.
The second feature I added is from answers.com if you doubleclick on any word it will open a mini popup box and provide spelling, meaning and word etmology, for a proper place or thing or famous person it will provide a bio.
In any event I hope you enjoy the newly added features to make visiting my site a rewarding and pleasant experience. Also I added many interesting interactive features on the right side of my blog site please feel free to enjoy and comment on them if you so choose.
Thank you for your time.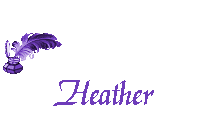 :: Send to a Friend!

About Heather ™
I have suspeneded my blog site
I may come back to it at a later date
I am sorry that my blogs and site were not appreciated and lacked participation
It just seems like my JH Colleagues have little interest in this format
I have to devote my time and energy where it is appreciated
It seems thats not the case here.
I wish JH and My Colleagues here well...Love and blessings to all
Click Videoplayer Below
This Clip Is From Youtube...Rarely shown on mainstream news
A delightful version of
the real warm loving Hillary,


not the "monster" media portrays
I am not Neocon or Republican, not "liberal but progressive"Rather, I like to say "progressive Independent" and independent of ideology, which really means: I think for myself.



My goal is to vanquish Neocons / Bush from this Land near and far...
To make women wake up, get angry, protest and act!
Aw come on . . . it shouldn't be that hard!......
About Me:
Orientation: ~ Straight
Hometown: ~ New York
Body Type: ~ 6'0" / Slim
Ethnicity: ~ Irish
Zodiac Sign: ~ Aquarian
Smoke/Drink: ~ Yes/No
Children: ~ One Daughgter I Cherish
Occupation: ~

Mom, Healer,Teacher & Work Force Goddess
My Favorite Things:
Shoes: ~ Charles Jordan High Heels
Activities: ~


Mountain Biking, Forest Nature Trails, Gourmet Cooking
Sports: ~ Tennis
People ~ Compassionate, Kind, Respectful
Recent Posts
Menu
Calendar
« March 2017 »
Mon
Tue
Wed
Thu
Fri
Sat
Sun
1
2
3
4
5
6
7
8
9
10
11
12
13
14
15
16
17
18
19
20
21
22
23
24
25
26
27
28
29
30
31
Friends
Links